Disclosure: This shop has been compensated by Collective Bias, Inc. and its advertiser. All opinions are mine alone. #MerrySpritzmas #CollectiveBias
Do any of you have family and friends coming to visit for the holidays?! Put up your hand and do a little happy dance if you do, because that is the best part of Christmas. Spending time with family, especially ones that you don't get to see often, is the highlight of the season. I don't even remember what gifts I received last year – but I still remember memories I made with family at Christmas 15 years back.
Hosting family and friends in our home for the holidays is one of my favorite things to do! I just love hosting in general. I am always planning parties with friends in Erie and begging my far away family members to forsake all their responsibilities and come visit me. My goal is always to make their stay as comfortable as possible so they will want to come back again. One way to do that when you are holiday hosting is to create a welcome gift. You can leave it on the guest bed to surprise your visitors.
A holiday hosting welcome gift isn't just a nice gesture, it is also a convenient way to provide your guest with all the essentials to make their stay at your house as comfortable as possible. In my opinion, there are several essentials to make your guests stay comfortable. First, you need snacks and treats. I always tell my guests to make themselves at home and eat whatever they want. But I also know it is awkward in someone else's house to go searching through the cupboards for a snack. Providing your guests with a snack and treat can help tie them over while they get settled and comfortable in your home. A water bottle is the next in line. Rather than having to wander a new home in the middle of the night for a drink, they can conveniently grab the bottle from the welcome gift you left them.
I also like to provide my guests with some neccessities they may have forgotten or need extra's of. Toothbrush and toothpaste is a nice touch. Since it is cold and flue season it can be helpful to give them a tissue pack and some lip balm. Another essential I stick in there is ear plugs. I am used to waking up at 5AM with my little people, but I don't expect the whole world to enjoy that. Earplugs make it easier for me since I don't have to worry about the kids being quiet for our guests.
The last thing that I like to put in my welcome gift is usually my guests favorite part of the gift. I always like to include a cute bottle Poo~Pourri! We all know how awkward it can be to share a bathroom when you are sharing a home temporarily. So I like to stick a bottle of Poo~Pourri in each welcome gift. It is a trendy and funny gift that will definitely make your guests smile. Especially when it comes packaged up in their Holiday 'Potty Box'. Poo~Pourri is simple to use, just spritz it into the toilet before you go. The beautiful smelling essential oil blend works to create a film over the top of the water, it traps unpleasant odors before they even begin and leaves the bathroom smelling better than you found it. My favorite scent is the Merry Spritzmas®, which comes in the holiday toilet bowl gift box, pictured below. It is a delicious blend of peppermint, vanilla and citrus. I actually use it for other things aside from bathroom stuff because I like the smell so much! I keep a bottle by our trash can in the kitchen and spray it every time the trash starts to smell unpleasant (or anytime I throw a diaper in from Zander!).
As a mom I get to deal with number two situations daily in very unpleasant ways. Zander is only one and I am so so done with his stinky diapers. I started spritzing them with Poo~Pourri before I through them in the trash, which is totally not what the spray is for, but it sure makes me garbage smell nice. Zoey likes to keep me updated on everything happening in the bathroom and always goes with the door wide open. Now she always says to me, "Mom! I am going POO come give me some POO~POURRI!!!". We use our Poo~Pourri up fast in the Burgess home. No shame! I have to restock at Bed Bath & Beyond often. During one of my restocks I discovered the Poo~Pourri holiday gift sets, that is what originally inspired me to package it up for my guests. The cute and witty packaging makes the product dual functioning. Not only does it provide fresh and delicious scents, it also makes a great bathroom read ;). Hover over the image below and click to visit and shop this product at BedBathandBeyond.com.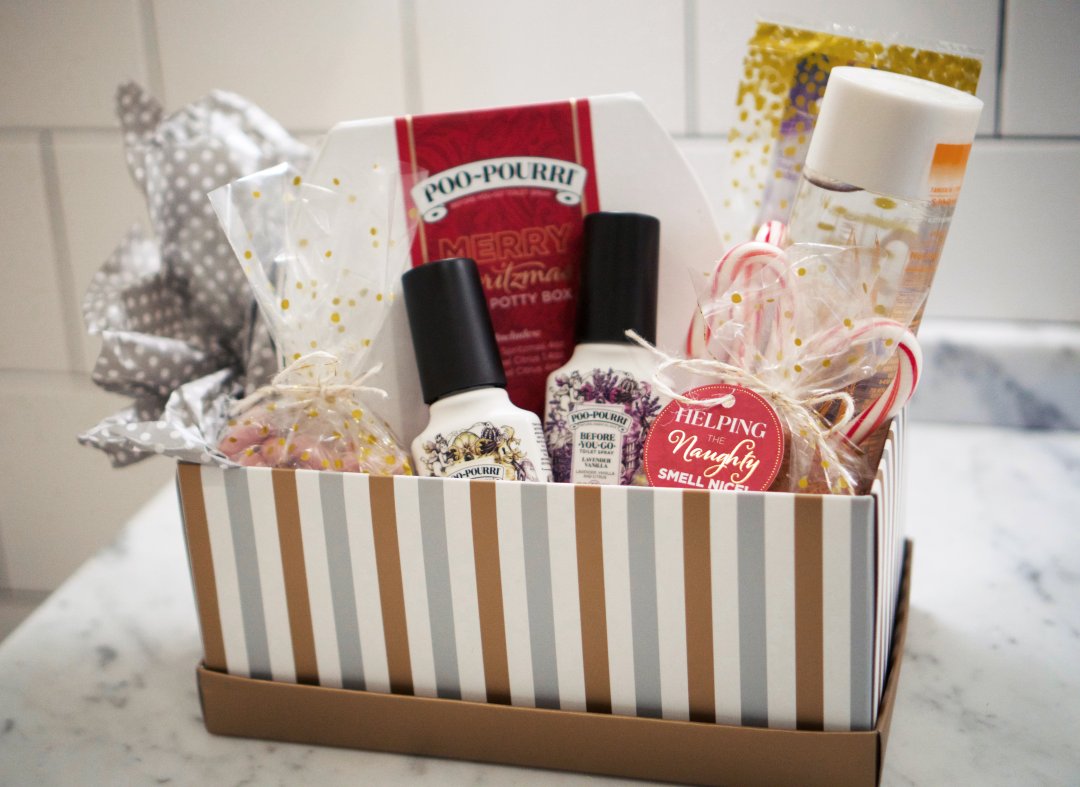 So now that you know everything I include in my basket and why, here are the simple (probably unnecessary) instructions for putting together your own holiday hosting welcome gifts.
How to Make a Holiday Hosting Welcome Gift
What you need:
A gift box
A variety of fun gifts – I got a toothbrush, toothpaste, a midnight snack, earplugs (to block out the noise of my 5AM risers), a treat, poo~pourri (for a festive and funny touch), a water bottle and some tissues (since it is cold season!).
Gift wrapping, tissue, ribbons, tape, scissors
How to put it together:
1. Stuff the bottom of the box with tissue to make it easier to arrange your gifts.
2. Arrange all your gifts in the box!
3. Add more gift tissue and ribbons.
Done! If you are heading out to shop don't forget to look out for special coupons on one item at Bed Bath and Beyond's website first.
Are you welcoming guests for the holidays? What do you do to get ready?? Check out some more fun holiday tutorials with Poo~Pourri from some of my blogger friends here.
Keep scrolling for more pictures or…
---