Disclosure: heehis shop has been compensated by Collective Bias, Inc. and its advertiser. All opinions are mine alone. #CurbsideConvenience #CollectiveBias
At a gender reveal party the other night with a bunch of other medical school families, we played a game. It was guys verses girls. The person in charge asked baby related question, whichever team got the right answer got a point. One question they asked was this: "A baby recognizes it's mothers voice from inside the womb, but how long does it take for the baby to recognize its fathers voice?". There were about 12 ladies on our team. We all looked at each other knowingly and collectively asked, "Is this father in medical school??". Sadly, being in medical school might add an extra week or two on to the normal amount of time. A friend of mine had a baby and the school only permitted one day off for her husband. ONE DAY.
It is pretty safe to say that if you asked the other gals at the party how they feel about their husbands being in medical school, they'd say the same thing as me. We are SO proud of what our husbands do. BUT that doesn't make it is easy. Sometimes us medical school wives feel like single mama's. I recently wrote about what medical school and marriage is like. Basically, it can get exhausting and overwhelming.
This is a real mom workout💪🏽.
Kris amazes me though. Next week he is scheduled to work 50 hours, sometimes during the day and sometimes all night long. He is under constant pressure to perform well and impress other doctors. When he comes home he has a lot of studying to do. And he still always makes time for the family and to help me with household chores. The best part, he never complains.
On the other hand, I am more than happy to publicly complain for both of us over here on the blog (I have written about medical school in lots of different posts). Most days I love my life and think it is the best ever. But sometimes after a day of teething, toddler tantrums, work deadlines, unsuccessful outings and mess, I just want to cry.
One thing that is difficult for me is shopping with the two kids. From pulling things off the shelves, to refusing to ride in the cart and tantrums that we can't buy alllll the candy, it is an adventure. Even with a list, I get frazzled and forget things. Recently I decided to try a personal shopper service that a bunch of ladies here have recommended. It is Giant Eagle's new Curbside Express service. You order all your groceries online and schedule a pick up time. When you get there a personal shopper brings everything out to your car. Could there be anything more convenient for a busy mom?! I just wish I had started using this months ago.
Check out Zander in this picture 😂, searching for treasure maybe?
You know when you are trying to balance toddlers and unload heavy items onto the checkout till all at once? That problem is totally eliminated. Your personal shopper puts everything (even the heavy, bulky items) right into your trunk. I love that Curbside Express gives you more control of your time, and more time for the things that matter most, like spending time with family. Ordering fresh produce and meat online worried me, but I gave it a try. I was impressed that my personal shopper picked out perfect looking lemons, banana's and asparagus. The service fee for Curbside Express is only $4.95, but that fee is waived the first three times you shop!  In my opinion, having a personal shopper for your groceries is the best of all the meal hacks out there.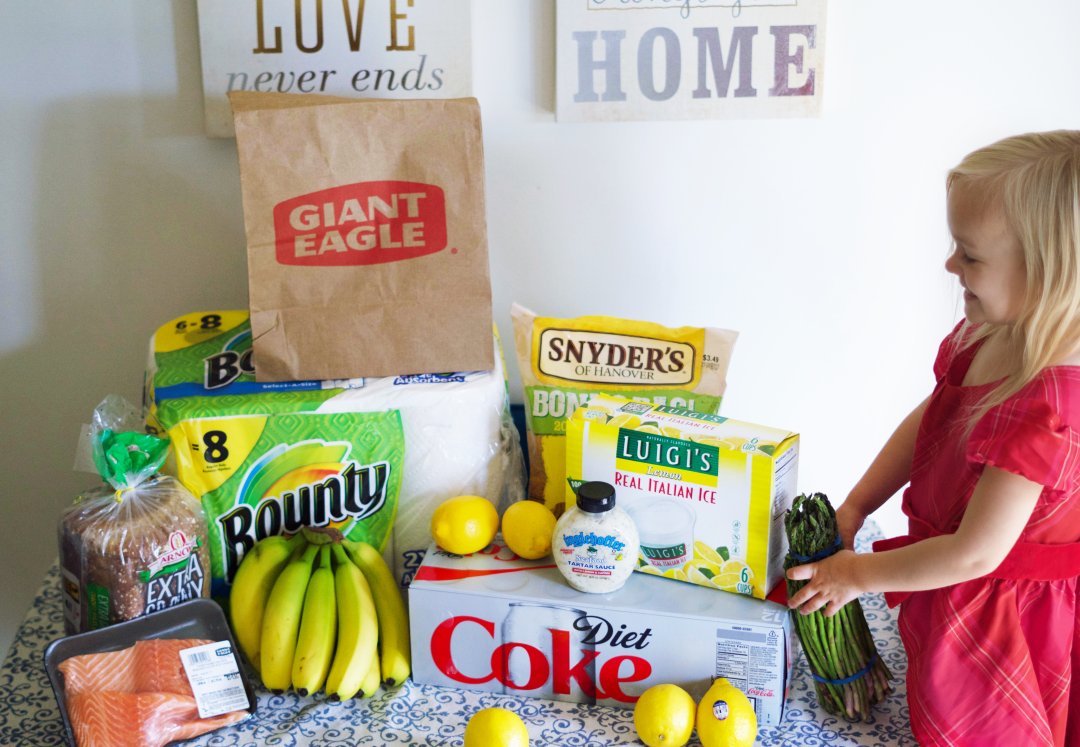 This is one way I have been able to save a lot of time (and avoid stress), but it is not the only thing on my list of meal hacks. There are a bunch of meal hacks I use to make my life easier. Below are a few more things I do.
5 Time Saving Meal Hacks for Busy Moms
1. Use a personal shopper, like Curbside Express at Giant Eagle. In my first grocery haul doing this I got paper towels, farm raised skinless salmon, banana's, lemon, Diet Coke, asparagus and so much more and it only took me about 15 minutes shopping online! This is the king of meal hacks.
2. When you cook dinner, always make extra. This way you can have leftovers for lunch the next day!
3. Switch off between healthy homemade and wholesome freezer meal options. There is a huge variety of healthy freezer dinners at Giant Eagle that are really delicious. These are a staple for me!
4. Wash your fruits and veggies before you put them in the fridge. This is good for quick snacks throughout the day, and really time saving for dinner veggie prep.
5. Share the meal responsibilities. Kris isn't home in time to make dinner most nights, but when he has a whole day off, he always cooks. It gives me a break, and he really enjoys cooking.
Even though medical school keeps us busy, we love our lives here. The challenge keeps us working hard! And using simple things like this have made it so much easier. My goal these days is to avoid unnecessary stress, and avoiding solo parent grocery trips is a huge help to me. I am not the only Curbside Express lover, a bunch of my beautiful blogger babe friends shared other meal hacks, you can see their lovely posts here.
Do you have any awesome meal hacks? How do you prioritize so you can spend more time on the important things?
Keep scrolling for more pictures or…
---
Play Mat: Soft Tiles (custom design!) | Bean Bag: FatBoy | Baby Gates: Regalo Baby
---