Disclosure: This shop has been compensated by Collective Bias, Inc. and its advertiser. All opinions are mine alone. #RegisteringForBaby #CollectiveBias
When you're friends consist mostly of young mama's, chances are high there is going to be lots of pregnant gals in the group. In our group of girls here in Erie there are always 3-4 (if not more) girls expecting. We have been here almost two years now and it seems like everyone in our group just takes turns being pregnant! That means we throw a lot of baby showers around here.
With so many babies coming, sometimes it is convenient to throw a joint baby shower. Just the other day, right before we left to New York, I hosted a baby shower. It turned out so cute that I had to share it with you guys as the perfect example for a joint baby shower for a girl and boy baby.
5 Easy Steps to Hosting a Joint Baby Shower for a Girl and Boy
Hosting a shower for two mama's at once is a wonderful way to double the fun and do something creative and memorable. Here are a few ideas for planning the perfect joint baby shower. This is a girl and boy theme, but you could easily switch it up to be whatever colors or themes you want. The main idea is to do a unique theme for each mama, so it really feels like two showers in one.
1. Make the invitations.
A joint baby shower requires unique invitations. Have your invitation say something like, "Double the FRIENDS, double the FUN! Let's celebrate two new babies, instead of one!". Here is a sample invitation I made up for the two pregnant gals at the baby shower I hosted.
2. Set up the registries.
As you can see from the invitations, I had both girls register at Target. Target is my go to place to shop for everything baby, and the Target baby registry just has some irresistible features that I love. Like the group gifting option that easily allows multiple party guests to contribute to one large gift. Or the 15% discount registrants receive for items left on their registry 8 weeks before their baby's arrival. I also love that every mama who registers there gets a welcome gift with $50 worth of coupons and sample products. Last of all, it tracks who gifted what, and makes sending thank you cards after the shower easy. You can register for your baby shower in Target stores, or online right here.
PS. Hover your mouse over the below image to shop!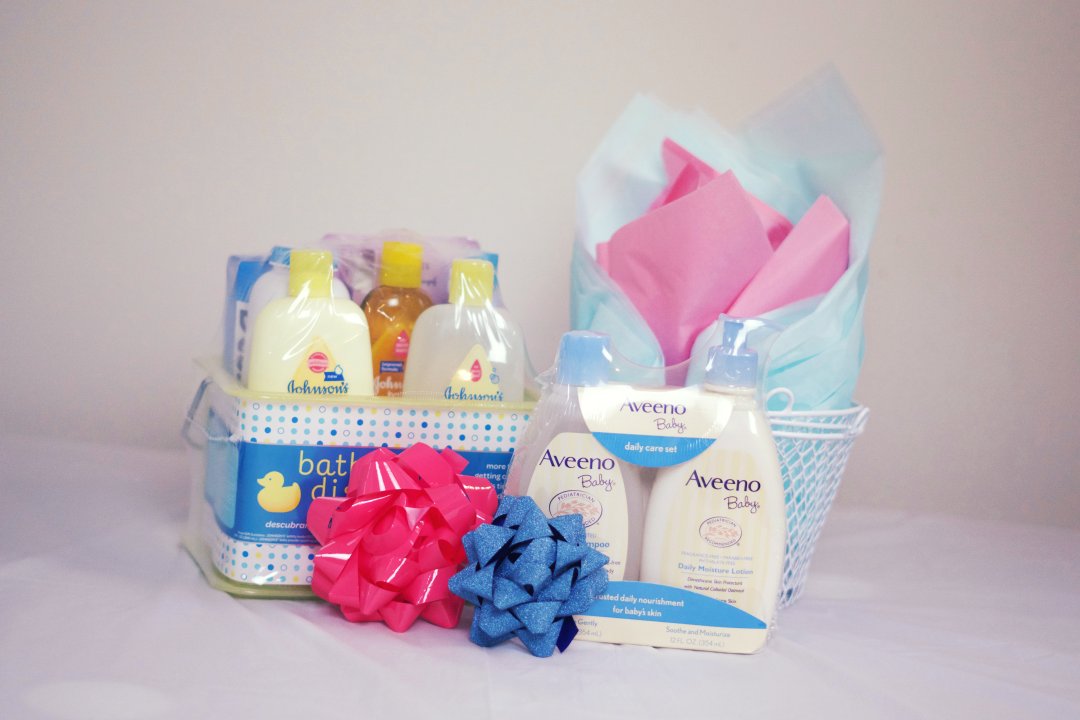 3. Choose a theme and shop.
This is the key element to hosting a joint baby shower and making it feel special for both mama's. Choose a separate theme for each mom-to-be. Buy double decorations and treats, one of each thing for each theme. For example, I purchased pink candies and blue candies for a candy bar, pink tissue flowers and blue ones to hang from the ceiling, etc. I did a pink and blue theme for a girl and boy to keep it simple, but you really could use this method for whatever two themes you can imagine.
4. Set up the party.
To set up the party choose your feature table. Dedicate one half of the table to each mom-to-be. I set it up so the halves of the table mirrored each other. This gives visual balance. I used a cute wall decal in the center to pull both halves of the table together and give the double theme a congruent feel. Aside from the feature table, you should also set up a gift area for each mom, so that the presents don't get confused.
5. Celebrate!
Last step to this joint baby shower party is to CELEBRATE! Make sure you start the gift opening a little earlier than normal. That way you will have enough time to celebrate both mama's equally.
Bonus Tip – Make a themed gift!
I got the mom's to be a Jonson's® Bath Discovery Set and the Aveeno® Baby Daily Moisture Regimen Pack off their registries. They are both great for gifting because they come with all the baby moisturizing and bathing neccessities. Using the theme colors, I packaged up two separate baby bath kits using everything in these two products. It gave me a little creative break. I incorporated my theme straight into the gifting and didn't have to buy extra supplies outside of the Jonson's® Bath Discovery Set and the Aveeno® Baby Daily Moisture Regimen Pack. The result looked looked cute, creative and unique. This gift required minimal effort and gave maximum results, which is just what I needed when I was throwing together a big joint baby shower.
I absolutely love baby showers! They are such a fun excuse to get together with your girls friends. The baby shower I hosted right before heading out of town was SO much fun, the perfect send off before saying goodbye to Erie for a month. Not to mention, setting up the Target registry for my mom's-to-be had me baby hungry all over again. Why is the baby stuff at Target SO cute?!
Do you have lots of pregnant friends? Have you ever done a joint baby shower?
Keep scrolling for more pictures or…
---
Top: NA-KD (use the code Rachael20 for 20% off your NA-KD purchase – they ship free worldwide!!)
---